One of the defining characteristics of the powder post beetle is the evidence of the infestation, a small pile of powder. The powderpost beetle mainly attacks dry hardwoods (as low as 8% moisture) because the nature of the woods' pores allows it to lay eggs.
The ThermaPureHeat® process is effective, non-chemical, tool for fighting and preventing these wood-boring beetles.
There are three groups of wood-boring beetles which invade and damage harvested wood used in structures and furniture.
Infestations are most likely to occur if the larvae of beetles are brought in with furniture. False powderpost beetles tend to infest floors, furniture, hardwood paneling, and various other wood materials.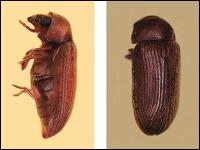 Deathwatch beetles prefer older, moist woods (as much as 14% moisture) and will attack girders, beams, and foundation timbers.