Swarms of honey bees split off from their mother colony and go house-hunting, looking for a secure cavity in a tree or elsewhere that will make a good home for the new colony. A swarm of bees clusters on bee expert Kirk Visscher's face, attracted to the queen in a cage beneath his chin. To study the stop signal, Seeley, Visscher, and Thomas Schlegel at Bristol University, United Kingdom, set up swarms, one at a time, on an island off the Maine coast that was devoid of natural nesting cavities.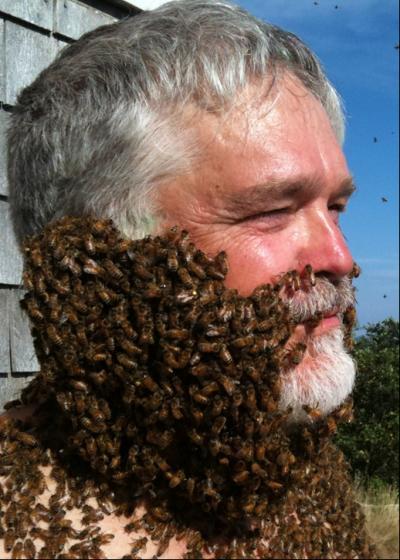 Visscher explained that the kind of cross inhibition seen in stop-signaling by house hunting bees mirrors cross inhibition found in nervous systems.
Honey bee swarms are produced when, to establish a new colony, many thousand worker bees leave a hive that has become crowded, bringing along their mother queen. On a foggy day, Kirk Visscher examines honey bees settling on the nest box they have chosen and to which the swarm has flown.
Kirk Visscher at the University of California, Riverside, often in collaboration with Thomas Seeley at Cornell University, NY, has long been studying how honey bees make these decisions.