DIY Bathroom Remodeling Tips Guide Help Do It Yourself Techniques for How to Bathroom Renovations Pictures Photos . Bathroom design idea of the accent tile, heated mirror and porcelain shampoo niches at eye level. All tile layout heights were based on the bull nose of the wainscotting ending up even with the top of 3" granite vanity splash. Water is making its way behind tile to make the substrate expand, further opening grout lines.
Make surgical cuts, removing the tile work in sheets with the existing backer board in one piece.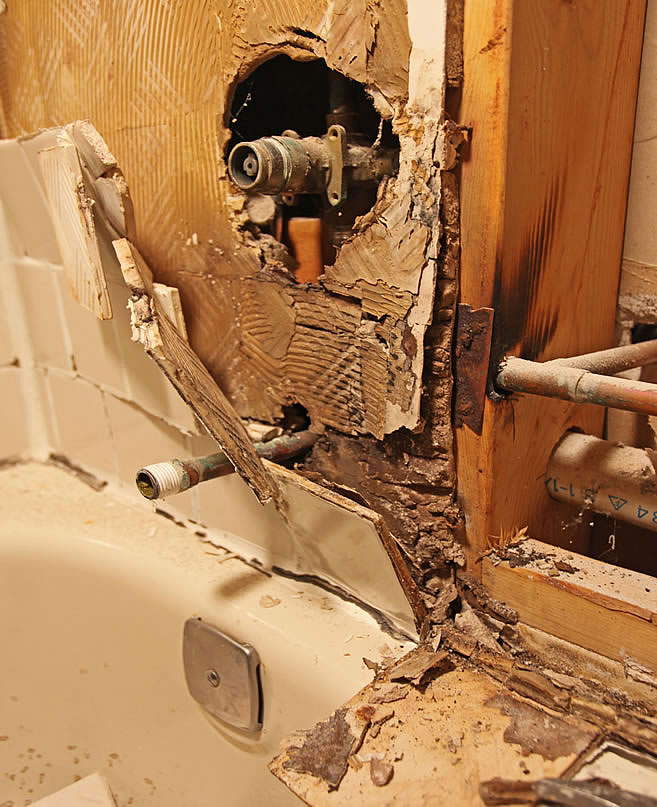 Caulking dam and bad tile work has caused the green board to get wet, mold and deteriorate. Carpenter ants prefer to live in moist wood that can be caused by water leaks in bathrooms. Mold is propagated in a humid environment caused by plumbing leaks, loose tiles in the tub shower areas and not using a fan or window to reduce humidity in your bathroom. Before the tear out, the tub caulking acted like a miniature dam to hold moisture at the bottom edge of tile work and promotes mold growth, wicks into green board and will promote rot of the wood.
It seems this has been leaking through the ceiling for a few years, rotted the floor and looks like the builder used regular sheet rock as a backer for the tile.
Concrete board or the Schluter system are much better options for backing up quality tile work. Sometimes we remove the first vertical column of bull nose tile and make the cut there to make sure we get coverage with the new tile.