Now let me go back in time for a second to explain why we were on the cover of a magazine and why it was such a surprise. When I first started at SNIPS Landscape & Nursery, around a year and a half ago, I was hired as the Administrative Assistant. As I became more efficient with all of those tasks, I endeavored to learn more about the landscaping field. About a month ago we were contacted by a gentleman, Allan Dennis, the editor of the Landscape Ontario magazine and e-newsletter asking if he could write an article about SNIPS Landscape & Nursery.
Now fast forward to August 6, 2013 – I was doing my usual tasks, which sometimes includes checking our Facebook page (Snips Landscaping) to see if anyone has commented on our page.
Check out the following link too see the August issue of the Landscape Ontario magazine and the article about SNIPS!! Published by the Ontario Association of Landscape Architects, Ground: Landscape Architect Quarterly provides an open forum for the exchange of ideas and information related to the profession of landscape architecture.
I had done landscaping and gardening with my husband in our own yard and always enjoyed it - which is what drove me to apply for a position at a landscaping company.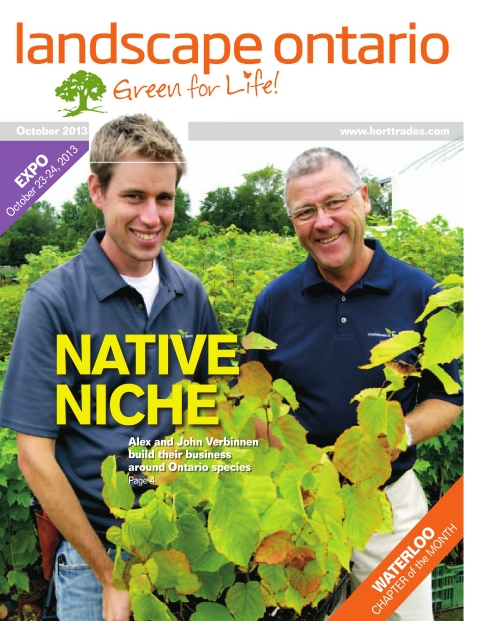 As a professional landscape company, we subscribe to numerous landscaping magazines and are members of landscape organizations; one in particular being Landscape Ontario.
Dennis left that day he had told us that he was going to try to have the article written and put in the August issue of the Landscape Ontario magazine but there was no guarantee, just that it would eventually be in the magazine and we left it at that.