Three landscape architecture firms – Bespoke Landscape Architects, Boffa Miskell and Prorata Landscape Architecture – have had designs accepted for the 2013 China Jinzhou World Landscape Architecture Exposition. In  February 2011, the International Federation of Landscape Architects, in association with Jinzhou City and JCOM China announced a design competition for garden spaces within the proposed 2013 China Jinzhou World Landscape Art Exposition.  The main theme of the Expo is "The World is a Garden", a theme reflecting the idea that landscape architecture and garden art are among the most pleasing aspects of human existence, on an almost spiritual level, for all people, everywhere. Bespoke Landscape Architects' concept to be built at the 2013 China Jinzhou World Landscape Art Exposition.
Prorata Landscape Architecture's concept design to be built at the 2013 China Jinzhou World Landscape Architecture Exposition.
Twelve projects were awarded for exceptional visions of the future at the AAA Visionary Architecture Awards on 17 November. M3 Architecture's design for this holiday retreat wisely defers to its dense surroundings on the northern Queensland coast.
Join 15,400+ of your peers and get the latest projects and articles first, delivered to your inbox once a fortnight.
Pocock Design:Environment is an international landscape design firm focusing on the sustainable integration of community, environment and aesthetics. As a firm that uses land as a canvas we try to approach the issues of sustainability with consideration to all aspects of community and culture and cater for them all in a sensitive way.
We are very excited to announce the upcoming opening of the New Zealand Forest on September 15.
A journey through the New Zealand Forest takes visitors to the Southern Alps of the South Island of New Zealand where the climate is similar to what we experience here in the Pacific Northwest.
From here the trail rises up toward the Australian exhibit with a new bus turnaround and a corten steel sculpture comprised of five, ten-foot-high panels punched through with small circles that let light pass through an abstracted Maori pattern. Via a registration of interest process, four New Zealand landscape architects were selected to submit concept designs, and three – Boffa Miskell, Prorata Landscape Architecture, and Bespoke Landscape Architects – were successful in joining a total of 20 designers around the world to have their designs constructed within the Jinzhou Exposition site. The New Zealand Forest is one piece of an ambitious master plan implementation focused on creating an immersive experience for five regions connected by the Pacific Ocean: Cascadia, Australia, China, Chile and New Zealand.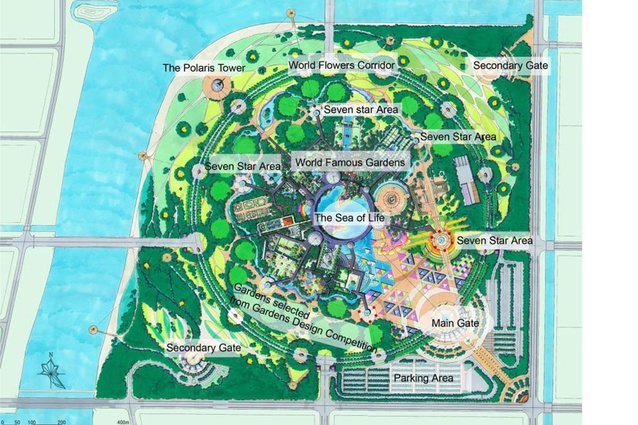 After shaping the sloping hillside with a framework of stone infrastructure, retaining walls, granite steps, boulders and winding paths, 8,000 custom grown plant species native to New Zealand were carefully placed in vegetative zones of tussock grasslands, subalpine, shrubland, wet meadow-shrubland and a beech forest. Plants are exhibited in an ecologically realistic theme demonstrating a beautiful collection of native New Zealand plants able to thrive in our region. The designs are centred on the competition theme, but also had to relate to the given designers region, in the case of New Zealand landscape architects – Oceania. New vistas abound making this an exemplary experience for plant lovers and those looking for a respite from the city. The angle of the wedge is 60 degrees which is the angle between the equator and a line that connects Jinzhou, China with Wellington, New Zealand.