An EDL member was photographed at a march in Bradford on Saturday showing off a highly offensive tattoo.
The man was part of an EDL contingent from Newcastle with the image being uploaded to their Facebook page. Other photos show a person in a pig mask in front of a group holding a flag saying "Taliban Hunting Club".
The pictures have emerged only days after ex-leader Tommy Robinson stepped down claiming he could not control "extremist" elements within the organisation. Tim Ablitt, the group's newly appointed chairman, has been contacted for comment but has yet to reply.
A judge has slammed "mob violence" as he jailed seven men who took part in an English Defence League demonstration in Walsall. Wolverhampton Crown Court heard trouble flared between the 600 EDL supporters and 200 members of the United Against Racism movement, who were holding a counter demonstration. Mr David Bennett, prosecuting, said police saw pages from the Koran being burnt along with a Pakistan flag while there were also abusive and racist chants from EDL supporters.
During the trouble a young Asian UAR member also made an 'inflammatory gesture' and EDL members surged towards police bidding to keep the protesters apart, the court was told.
Judge Nicholas Webb said the violence lasted about an hour and it was fortunate no serious injuries were inflicted, with police largely protected by their riot shields.
All 32 men were charged after police scoured over 400 hours of CCTV footage of the trouble, which saw a small number of protesters and police officers sustaining minor cuts and bruises. The judge was told none of the seven men were involved in fighting with police officers, but they were threatening and aggressive. You can even get a handy wristband to remind you what you're so mad about if you forget after sinking 10 pints.
Councillors will not be calling on the Home Secretary to ban the English Defence League from marching through Bristol.
Campaigners gathered at the Council House last night to protest at the far-right group being allowed to stage the event in the city on July 14.
A man originally from Iraq, who would give his name only as Esam, was among the protesters.
The protesters then joined the meeting in the council chamber, holding their placards aloft to ensure councillors knew their message.
Adrian Probert, the lead name on an online petition calling for the council to ask Theresa May to ban the EDL march, which has already been signed by more than 2,000 people, spoke in the public session of the cabinet meeting. Earlier this week the Post reported that policing the EDL march is expected to cost about ?500,000 and involve 1,000 police officers being drafted into the city.
This entry was posted in English Defence League, Far right racists, Resisting Islamophobia, UK by Bob Pitt.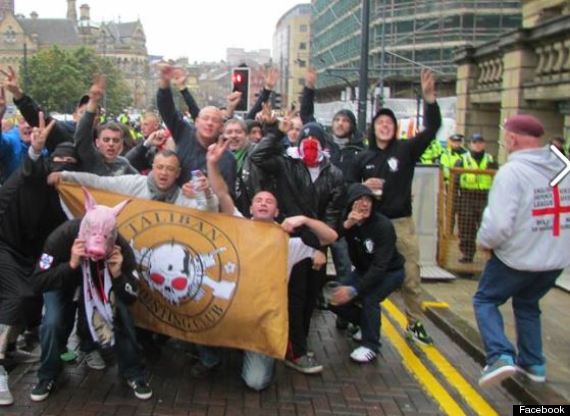 They were the first of 32 people appearing for sentence after violent disorder hit the town centre last September, leaving police officers and demonstrators injured. Placards were also being carried, with one reading "Our Walsall will not be part of Pakistan," he said.
The far-right group's supporters pushed, punched and kicked out at officers who faced missiles including bricks, bottles, coins and wood broken from street furniture and tables in a nearby pub.
About 20 people rallied outside the College Green building ahead of the meeting of the council's cabinet. Some chanted slogans against the EDL, which describes itself as an anti-Islamist organisation.
He called for a ban similar to those imposed in some other cities when the EDL had tried to stage protests in the past.
He praised the response of Muslim communities for their decision to hold a peace walk in the city the following day, instead of a counter demonstration. March organiser Mickey Bayliss has toldthe Post he expects about 500 EDL members to take part.