First Aid Certified Training Systems Ltd (FACTS) is a family business established in 1991, and is the Okanagan's oldest, largest, and most trusted private training agency. We operate training centres in both Vernon and Kelowna, and run most courses on a regular basis in each location.
A FACTS student is a loyal student, and will return to us year after year to re-certify their tickets. Bring your players, members and community together before the start of the season to get your ground and clubhouse ready for play! FACTS is renowned for outstanding instructors, professional standards, and state-of-the-art facilities and equipment.
We work hard to accommodate the needs of individuals and businesses alike, and welcome the opportunity to discuss how we can make our training work for you.
This kit is almost identical to the occupational kit including essential supplies and protective equipment.
A standalone pocket mask can be added to your family kit or carried along with you wherever you go for better personal protection and more effective CPR.
Club projects have ranged from simple paint jobs and sight screen scrubbing to brand new changing rooms, function rooms and even a new pavilion full stop. Register your club here and then use our fantastic resources to get planning for your event, the sooner you get started the better your event will be.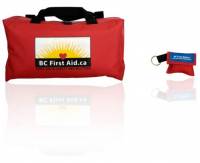 This training is flexible and can be customized to suit the needs and schedule of the client.
BC First Aid offers a selection of prepackaged and custom ordered first aid kits to meet every need. BC First Aid will work with you to ascertain your needs and create the ideal First Aid kit for your environment and training.