The GSO-4.1 fixed blade knife is an outstanding tool and made from the best materials around. This is a whole metric ton of pictures, opinions and charts and things, but not one single picture of a knife cutting anything?
As a matter of fact, I did some simple paper and cardboard cutting with all three knives before carving up some oak branches to get a comparative feel for each for the review. Daruber hinaus sollten Sie sich registrieren, um alle Funktionen dieser Seite nutzen zu konnen. Benutzen Sie das Registrierungsformular, um sich zu registrieren oder informieren Sie sich ausfuhrlich uber den Registrierungsvorgang. Falls Sie sich bereits zu einem fruheren Zeitpunkt registriert haben, konnen Sie sich hier anmelden.
Since i had some very slight edge chipping (seen through a magnifying glass) after hacking & cutting some dried oak (probably due to the rather coarse edge), i decided to thin the edge a bit and also refine it just a little. Reprofiling was done freehand on the watercooled black silicon Tormek stone, refining with the grit 60 Rubber Wheel. Judging from the scratches in the bevels at least part of it was due to minute small sand particles trapped in the wood surface, so that would possibly also have happened on larger edge angles. Shaving hair on the back of my hand or my calf is also not possible anymore, but the knife still cuts all kinds of green & dry wood very well.
In a few days i will enlarge the edge angle to an even 30 degrees with the same grit 60 Rubber Wheel finish, and then i will find myself a nice piece of seasoned oak again (this time without the sand particles) to do some more testing. Would be interesting to know, these knives are taking the knife world by storm,, handled them and definitely love them, especially in CPM3V, if I can catch one.
First i removed the old & weakened edge with microchips by slicing several times straight into a silicium carbide stone (tip from Cliff Stamp), and then put on a completely new edge with the hardrubber grit 60 Rubber Wheel. 2) Then 1 or 2 forceful cuts straight into the edge of a old piece of desk (wooden multiplex with hard polymer top layer) to test the strength of the new edge. One of the coming days i will find out how this edge will handle some batoning, and i will also try to locate a nice piece of seasoned oak again.
Today i did a little hiking in the woods near my house, so i could play with my GSO 4.1 some more. Due to the nylon heads there is no chance of damaging the back of the knife, and thanks to the lead shot filling it still has quite a lot of impact.
Doing the same with the magnifying glass in my SwissChamp and with the same lighting conditions i could spot some extremely minimal edge damage: one spot where (judging by the scratches in the bevels) the edge was probably hit by a tiny grain of sand and some very very small spots which reflected a bit of light. NB: this was done with the edge reprofiled by me to an ever so slightly convex 30 degrees inclusive angle, which also is a bit finer in edge finish than straight from Survive!
These knives performs real good, changing the edge angle to your personal needs, also to the performance of the steel itself will make these knives even better, guess I have to catch one indeed!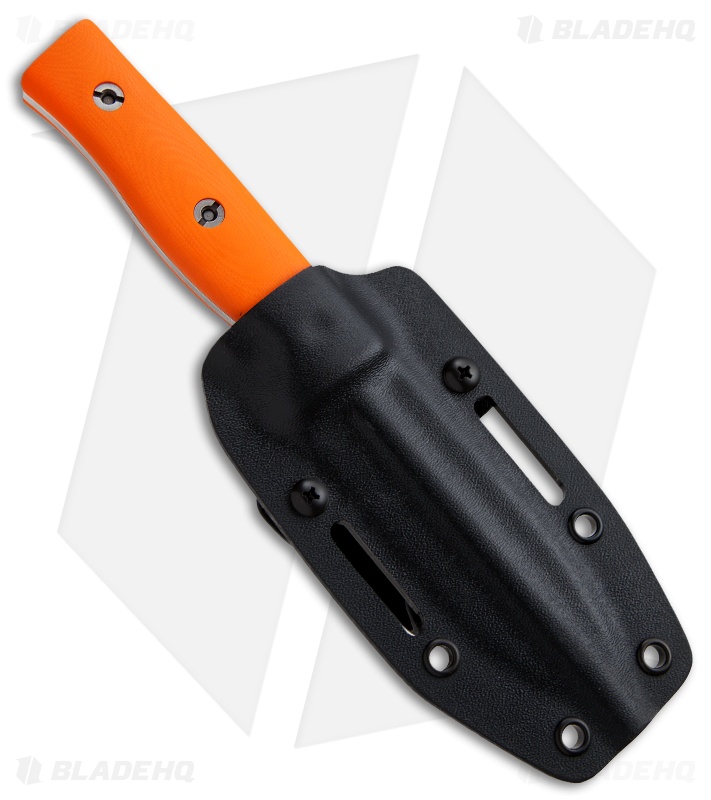 Guy Seiferd, owner and product designer, expects to earn your business and it shows in the quality materials and craftsmanship that Survive Knives feature. I also have the GSO 4.1 but didn't like color of the natural micarta so I changed it with RIT dye.
I gave it a good workout in the woods and after a day chopping and batoning it stayed really sharp! This one has a tumbled CPM-20CV steel drop point blade with ferro notch and black canvas Micarta handle.
The full-tang handle has a notched pommel and a lanyard hole that looks quite nice recessed under the scale ends.
The Kydex sheath is perfectly fitted and features a drainage hole down the center and a MOLLE compatible pant clip for multiple mount options.