Join Trackers Earth for our world renowned program that prepares you for the front lines of the coming zombie apocalypse. The Trackers Rangers Guild teaches their own special brand of survival skills applicable in both an urban and wilderness setting. Plus, they cover The Curriculum of Shadows, akin to a martial art, this unique philosophy uses shadows, silence, stealth and invisibility to help you guide your band of lone survivors through an earth populated by 6 billion creatures ravenous for your squishy brains.
Special skills include: fire with no matches, torches, weaponry, zombie and stealth scenarios (hunt zombies with bows and foam arrows), wilderness shelter, proper cutting with samurai swords, hatchet throwing, transport methods for getting out of Dodge, avoiding infection from the Zombie plague and much more. Students spend three weeks developing the skills of our Trackers Rangers Guild in an intensive and fun environment. Our experience culminates in a week long overnight at our Rangers wilderness camp where students apply the skills they have been learning in the previous weeks.
Students work on individual projects throughout their three weeks together while also learning to collaborate and create a strong village life arising from a deep understanding of teamwork and self-confidence. The Remembering is here. There was a time you forgot who you were, how it feels to release an arrow, the music of the bowstring resonating, the route of your blood, the path of those who came before.
Our labor, profits, joys and hopes are directed to generating resources that help create a village of epically happy people connected to the land, family and community. The Curriculum of ShadowsTrain in the art of camouflage and discover an invisible world hidden in the forest. With its longstanding and thorough curriculum and instructors, Trackers camps offer the most experience, leading archery training for youth in the Bay Area. Santa Cruz Mountains, California The 2015 Camp Trackers location is at Camp Lindblad, a forest of redwoods and fir trees in the Santa Cruz Mountain Range.
For more information on the nuts-and-bolts of camp, please read on for answers to our most Frequently Asked Questions.
We believe that all people (kids and adults) want to belong in and contribute to their community.
Camp Trackers is a unique program, attracting a wide variety of "personality types" and kids from diverse backgrounds who all work together to build a village.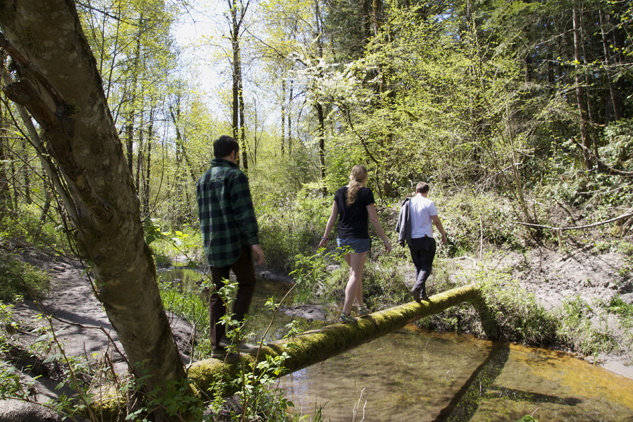 Our provided meals are all omnivore and include an array of vegetables, grains, dairy, and meat, often mixed together. About Systemic Food Allergies To the best of our ability we always work to exclude items that typically result in severe systemic reactions leading to anaphylaxis. Trackers Staff are the most highly trained and experienced educators in the field of outdoor education, well versed in our industry. A detailed packing list will be sent with your confirmation and welcome packet along with all camp forms. If your child would like to be grouped in the same tent as their friend please note this in your registration. We have very limited scholarship awards available of up to 20%-100% of tuition for families in need. Emphasis is placed on thinking on your feet, increasing your bad-ass factor and both short and long-term decision-making during any apocalyptic event. They tell you how to get out of town and into the woods as you strive to navigate the exodus from major population centers.
They learn techniques to start fire with no matches, create effective survival shelters, earn our Wild Plants Safety Certification, practice archery, camouflage, turn deer hides into leather buckskin and more.
This beautiful 40-acre woodland site includes the Trackers Homestead where your will find free-range chickens, milking goats, abundant wildlife and one of the most epic forests this side of Middle Earth. Use traditional wood bows and even learn on modern archery sets such as composite, take-down and compound. Campers sleep in canvas-walled tent cabins, rustic yurts, or - for survival-focused programs - even their own primitive shelters. They are experts at traditional crafts who possess a deft understanding of true and epic adventure. Since 2004, Trackers has led the way in standards of safety for outdoor camps and programs. Due to limited funds of awards we recommend you apply early to increase your family's chances of acceptance.
With finely honed senses they become the eyes and ears of the village, living completely with the land and tending to it as if an invisible ghost.
We are a community where we Remember the celebration of hearth, family and a timeless human story. Our program design demands intelligent accountability from participants, especially while working with tools and training in challenging skills. We teach the highest caliber of outdoor skills, and we adjust our curriculum for all experience levels.
Our fishing and foraging experts know the best locations for kids and focus on ethical harvesting, to protect resources for future generations.
Every aspect of participation is considered a privilege and all campers must treat it as such.
Our instructors are adept at simultaneously challenging those who have a background in what we teach, and helping a newcomer to gradually increase their ability.
This now said, our camps have and always will be infused with vital traits of good humor, celebration and appreciation for each member of our village. All staff involved in meal preparation possess appropriate food handler certification and training.
Staff attend intensive training in all safety policies, from driving safety for transported programs to home-sickness prevention and mitigation. Our staff retention percentage is excellent and the large majority of our lead staff is made up of returning instructors.