While we all think we're invincible at some point in our lives, the one place we shouldn't take chances is miles from the barn on a trail ride.
I have been doing a fair amount of trail riding lately, and while I'm almost embarrassed to admit I don't always carry a first aid kit with me, I know I'm not the only one. When I'm going on a trail ride, I like to have a few things on my person, and other things in my saddle bag--because sometimes horse and rider become separated and getting your hands on your saddle bag might not be possible. In my opinion, I think bags with zippers are better than bags with buckles; this is because some of the items in your kit will most likely be small, and can easily fall out of bags that just fasten at the top with buckles. Check with park rangers, if applicable, to make sure the trail is clear and appropriate for horses. All of this might seem a little overkill to some, but it only takes one emergency to change your view.
The Kit has molle system and can be attached to a belt.   This pouch is highly rigid, lightweight, and washable.
I know it's sorta dorky, but for items on me, I use a "fannie-pack" (Hulk Hogan would be proud).
The main thing, when it comes to saddle bags, is to make sure the items are SECURE, BALANCED and COMFORTABLE--for you and your horse. A horse can see completely around its entire body except for small blind spots directly in front of its face, underneath its head, and directly behind itself. If you have 5 pounds of excess weight on your horse it's much better to divvy up your items into (2) 3.5 pound bags on either side of the saddle. Nylon bags are lighter, they are less clunky at faster gaits, they are typically water-resistant and lastly, they are usually washable.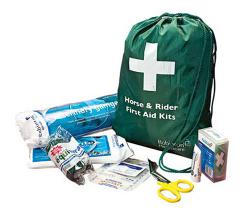 If you have severe allergies, like me, perhaps you'll need to include a small bottle of Claritin, for example. This is why it's very important not to walk up right behind a horse - you are in its blind spot and if you startle it you may get kicked.