Gold plated twin lid pocket watch with a skeleton movement exposed through a narrow white dial featuring Roman numerals and period style hands.
We showcase products from a number of carefully chosen and highly recommended sellers that offer great service and excellent prices.
I ended up keeping a second notebook at home with a list of everything I needed to do and crossing things off as I went along. If you read my post on 5 Times You'll Wish You Had A Stamp During Wedding Planning, you know how much I love personalized stamps as a gift for engaged couples.
I personalized the entire pack to be pink and gold because I'm sort of obsessed with the combination of sweet and regal.
This is the perfect notebook for a bride to carry with her to bridal expos and wedding appointments.
The gold dots on blush background is very Kate Spade-esque, without that extremely high price tag. Eventually, this pack will actually be curated right on Expressionery's website for easy ordering.
If you wish to make a purchase, you will be taken to the seller's secure store checkout where all dealings relating to your purchase will take place.
I also had a notebook with designated sections to write down information about each vendor.
So, as I designed the A Bride On A Budget Wedding Planning Survival Kit with items from Expressionery, I knew notebooks had to be on there. I love the feel of the jute cording and the zipper is great (one of my biggest gripes in life is a crummy zipper).
The short version: This stamp will get used at bridal expos, on save the dates, thank you cards, engagement party and wedding invitations, and RSVP's.
I mean, I do run this wedding blog for a living so I know more about wedding planning than any one person should.
It's compact enough to fit in her purse (especially if she's like me and still carries around oversized hobo bags in hopes that the trend never fades).
I'm thinking a long pen with a large pink poof on the top (a la Cher from Clueless), more for show than function, but you can add a simple gold pen instead. For now, though, you can click on any of the links, use our personalization as a guide, and create your perfect pack. I had a section for venues, one for flowers, another for cake (because cake was most important to me!), on and on. There are three sections inside, plus a zippered pouch, credit card slots, bill holders, and a small outer pouch. So when my mom or maid of honor or Pete would ask me what they could do, I didn't really have too much to delegate. They're "From The Future Mrs.", which means a bride will be able to use them throughout all her wedding planning. Plus, the pages are collage ruled (my favorite!), giving the bride enough space to write everything down -- because there is a lot to write. This wallet would be a good place for a bride to keep the business cards she collects at wedding expos (and it matches the pink and gold theme I'm going with).
Plus, you'll get a lot more mileage out of a self-inking stamp than traditional address labels (which usually come in a sheet of 24 and by invitation 25, you have to order more). They're great for a quick thank you for any unexpected gifts or one to her mom and maid of honor after her bridal shower.
Plus, you can get 30% off personalized stationery with the code ENJOY30 (for a limited time) or 30% off a full price item with the code GIFTS30 through June 30.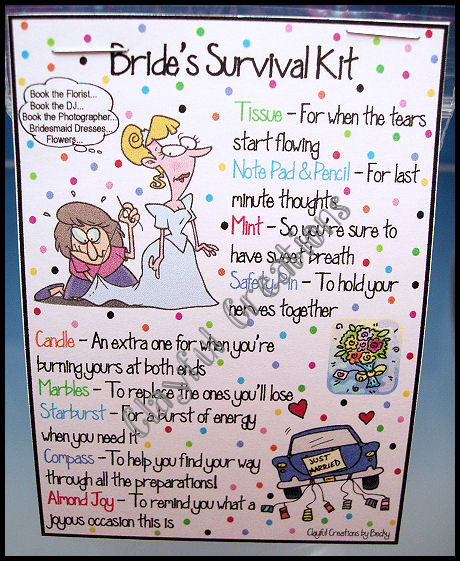 The post card & envelope includes a contents list which explains the humourous sentiment of the objects in the bag. I was just texting out tasks, but it would have been so much cuter to have used this notepad.
I filled this one with my favorite photos from our wedding, but let's think engagement gift for a minute. Everyone will think it's just a cute wallet, but for her, it will be a reminder of her wedding planning. Plus, the afternoon before our wedding, I wrote Pete a schedule of what was happening, what time it was happening, and who needed to be there. Every woman I know has texted (and shared on Instagram, Facebook, and Twitter) a photo of her, her boyfriend turned fiance, and her engagement ring -- usually with the caption "I said yes" or "He put a ring on it." You'll probably get that text, but, if for some reason you don't, you can always save her photos from social media and use them to make this mug. It would have been great to use this paper instead of just a plain sheet of notepad paper (especially since he still has it almost two years later). Chances are, she'll say her wedding day is the best day ever but until then, proposal day will be.
So making her this mug, which will be filled with seemingly endless cups of coffee (maybe wine) through her time of planning, is perfect.