Physician income declined in general, although the top-earning specialties remained the same as in Medscape's 2011 survey. For employed physicians, compensation includes salary, bonus, and profit-sharing contributions.
Although decreased reimbursement has been the recent buzz-phrase, some specialties saw modest gains, whereas others saw significant declines. As in Medscape's 2011 survey, the highest-earning physicians practice in the North Central region, comprising Iowa, Missouri, Kansas, Nebraska, and South and North Dakota; the mean income of physicians there is $234,000. Physicians overall are nearly evenly split about whether they feel fairly compensated: 51% said yes, 49% no.
Physicians who felt most strongly that they were not fairly compensated for their work were endocrinologists (62%) and plastic surgeons (62%). The specialties with the highest percentage of physicians who consider themselves rich were pathology (15%), radiology, oncology and gastroenterology (14% in each). About 3 in 10 physicians (31%) spend 30-40 hours per week in direct patient care, a slightly higher percentage than in Medscape's 2011 survey. As in Medscape's 2011 survey, the 13- to 16-minute patient visit is still the most common, especially in the primary care specialties of family medicine and internal medicine.
The amount of time per patient visit excludes the patient's time with a nurse practitioner, physician assistant, or medical assistant; it measures only time spent in the presence of a physician. While female physicians still generally spend more time with each patient than do male physicians, the gap has narrowed.
More than half of physicians spend a minimum amount of time - 4 hours or less - on paperwork and other administrative activities. Only one quarter of internists and one third of family physicians would choose the same specialty. About 23% of all doctors would choose the same practice setting, compared with 50% a year ago. The most discontented were plastic surgeons; only 41% said that they were satisfied overall.
Despite the interest in alternative patient-care delivery models, only a small percentage of physicians are currently involved. Some 3% of physicians have cash-only practices, although that percentage is higher for plastic surgeons (15%) and psychiatrists (11%).
An ACO is a type of payment and delivery model that ties provider reimbursement to quality metrics and reduction in the total cost of care for an assigned patient population. Elements of healthcare reform entail following treatment and quality guidelines set by insurers and Medicare for shared savings programs, but physicians are clearly skeptical that they will improve patients' quality of care.
Between 26% and 31% of internists, family physicians and pediatricians say that quality measures and treatment guidelines will have a positive effect.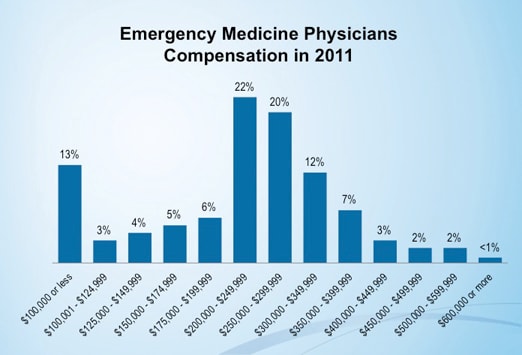 The healthcare reform goal of reducing "unnecessary care" faces challenges: The vast majority (67%) of physicians said they won't reduce the amount of tests, procedures, and treatments they perform, either because the guidelines aren't in their patients' best interests or because of the need to practice defensive medicine. Only about a quarter of doctors (27%) said that they would reduce the number of tests and procedures because the guidelines are valid. In the past, most doctors did not discuss treatment costs with patients, but times have changed. About 1 in 7 doctors (16%) say they never discuss the issue, either because they themselves don't know the cost of the treatments or they don't believe it is appropriate to do so.
All material on this website is protected by copyright, Copyright © 1994-2016 by WebMD LLC. Check out the Advanced Search and select hourly pay or salary - check out the highest paying EM jobs! In 2012, radiologists and orthopedic surgeons topped the list at $315,000, followed by cardiologists ($314,000), anesthesiologists ($309,000), and urologists ($309,000). For partners, compensation includes earnings after tax-deductible business expenses but before income tax. The biggest income increases were in ophthalmology (+9%), pediatrics (+5%), nephrology (+4%), rheumatology (+4%), and oncology (+4%). Although physicians are rushing toward employment, partners in private practice far outearned physicians in any other work environment.
Physicians who are board certified earned a mean of $236,000; that's 89% more than non-board-certified doctors, who earned a mean of $125,000.
Overall, only about 11% of physicians said that they consider themselves rich, while 45% said that their income is no better than that of many nonphysicians. Even among some of the higher-earning specialties, a majority of anesthesiologists, critical care specialists, dermatologists, urologists, and emergency medicine doctors said that they don't feel rich because of debts and expenses.
One quarter of critical care specialists spend more than 65 hours per week seeing patients, as do 11% of general surgeons and cardiologists and 10% of internists and nephrologists. Anesthesiologists (49%), critical care physicians (44%), and neurologists (46%) spend more time with each patient: a mean of 25 minutes or more. Last year's satisfaction scores hit 80% (dermatologists), with many other specialties over 70% (radiologists and oncologists) and several over 60%. About 3% participate in Accountable Care Organizations (ACOs), but 5% say they plan to become involved in the coming year.
Almost half of physicians surveyed (47%) said these measures will have a negative impact, whereas 29% said it will have no impact on quality. The specialists most likely to have cost-related conversations are rheumatologists, psychiatrists, family physicians, and dermatologists.
Previously, radiologists and orthopedic surgeons led the pack, at a mean income of $350,000 each, followed by anesthesiologists and cardiologists (both at $325,000).
Compensation excludes non-patient-related activities (eg, expert witness fees, speaking engagements, and product sales). For declines, the largest were in general surgery (-12%), orthopedic surgery (-10%), radiology (-10%), and emergency medicine (-8%). However, among primary care physicians, a slight majority (54%) in the 2012 survey said they weren't being fairly compensated. Another 45% said that although their income probably qualifies them as rich, they have so many debts and expenses that they don't feel rich. About one quarter of pediatricians, rheumatologists, and family physicians spend less than 30 hours per week in direct patient care.
A majority of dermatologists (40%), radiologists (8%), ophthalmologists (35%), and emergency physicians (35%) spend the least time -- a mean of 9-12 minutes per encounter. Whereas 7% of male physicians spend less than 9 minutes per patient visit, only 4% of female doctors do the same. In 2012, just over one half of all physicians (54%) would choose medicine again as a career, far less than in the prior year (69%).
Whereas 52% of physicians we surveyed believe that ACOs will cause a decline in income, 12% say that they will have little or no effect on income.
The bottom-earning specialties in 2012's survey were pediatrics, family medicine, and internal medicine. Solo-practice owners earned a mean of $222,000, while employed physicians earned a mean of $194,000. Only 10% of family physicians, internists, and pediatricians spend that much time on administrative activity. The most satisfied specialty is again dermatology, but this time with a satisfaction score of 64% -- considerably down from 80%. Almost one half of physicians (46%) said they occasionally discuss cost of care issues if patients raise the subject. At least 40% of respondents were employed physicians at hospitals, healthcare organizations, private practices, or academia, government, and research. However, the overall number of responses by specialty mirrors the American Medical Association breakdown.