Yes we do, our school is approved by the Ministry Of Education and use offer a full money back guarantee.
Since I am a student now at Sasin, I am also eligible for a student ED visa which will let me stay in the country for longer periods of time with a lot less hassle than before. The place to go to get your ED student visa is the Government Complex Commencerating His Majesty, B building, at Chaengwattana Road (soi 7), which is a 13 km drive from BTS station Mo Chit setting the average punter 120 baht back in life when taking a taxi. From the front of the building to where you need to be is about 1 km, so make sure the taxi drops you at the right spot. Luckily I was smart enough to print the location of the immigration office on paper, in Thai, to show the taxi driver, because the government complex is seriously humongous and entering the complex from the wrong site might set you back on a quest similar to finding El Dorado while being dropped somewhere in Mexico.
On the second floor one can find this relatively small entrance giving the impression not many come here. When you are complete its time to go really in and this is when you realize it can all take a while. After handing all the paperwork to the immigration officer on duty she started entering some of the information into the computer in a spreadsheet which looks like it has been designed ages ago, and she took a hard look to see if you really resemble my passport picture; or was she maybe flirting with me by giving me the mean eye? Some time ago I had the privilege to spend half a day at immigration in Bangkok, and of course it was so much fun I wanted to come back soon again. After receiving another letter from Sasin stating I am still studying there, I went on my trip to Mo Chit, took a taxi there to immigration, and arrived at 1PM. After about one and a half hours it was finally my turn and the bad news arrived soon when the officer tried to explain to me, in broken English, that I was in the wrong line since I did not need a 90-day report but an extension of my visa. This little excursion took me about half a day and it only became worse when I left immigration and there were no taxis anywhere to take me back to Mo Chit. In the past I had to apply for a tourist visa back home, and even then I had to do a visa run to the border every now and then.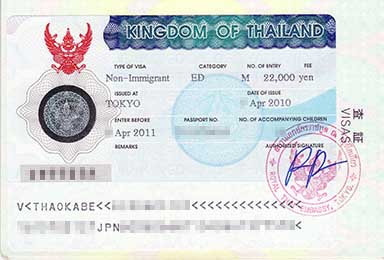 Another option would be to try to find the correct bus going there, for whoever is going to try that, I wish you good luck. Once inside you can go the front desk and tell the uniformed person what you want to do there, and they will hand you the proper paperwork to fill in. Both can be easily made in the building for very low prices in case you don't have many copies lying around at home. At the next desk you get a queue number and from then on its simply waiting till it's your turn.
Right after that you can wait outside and it will take about half an hour before being called back in again to receive your passport back, with the long awaited ED student visa. Last week my visa, with a validity of 3 months, was about to expire, so why not go back and try out a different line to wait in? Ask for form TM 7 papers for an extension, TM 47 is for 90 day reporting (which can better be done by post).
Of course I laughed loudly, and went back to the front desk to ask for a new form to fill in and a new ticket to wait in another line. Taking a motorbike was also not a possibility since it just started raining, so my patience was tested once more. A student visa would only demand me to hand in a notification of residence every 3 months and that's it. The first time I arrived there I waited about 90 minutes to find out that your visa, or stamp on arrival, should be valid for, at least, another 11 days otherwise they cannot help you – yes, I had to do another visa run to Cambodia to fix that little problem- while the second time I only had to wait for 30 minutes. This made me wonder why the hell my old stamp on arrival had to be valid for another 11 days at least, and I had to go on a 8-hour visa trip to renew my stamp on arrival, if they hand you the visa in about 30 minutes.
My hopes to be out there again in 60-90 minutes disappeared quickly after I noticed 58 people were in front of me in line and it wasn't going fast.
In this line only 34 persons were in front of me, but the line went slower and it took me well over an hour to be able to speak to the immigration officer there. After about 30 minutes one taxi pulled up, but my feeling of relief soon disappeared when we reached a traffic jam after about 1 km. That luxurious lifestyle only required a letter from Sasin confirming I really study there and a trip to the immigration office in Bangkok.
Coming early does pay off I found out, as does bringing a book to have something to do when waiting. It first looked pretty well, till she took my letter from Sasin and showed it to  colleague; a second colleague was also called over and they discussed some part of the letter extensively. The drive home took another hour at least, but the good news is this was hopefully the last time I need to go to immigration for quite a while.
The lady did explain two minor things to me; that I had to come back in about 90 days for my notification of residence and that I could not leave the country without permission. Luckily no complaints reached me, so I guess they were just conspiring to see if my next visa would be valid 1 or 2 years or something.
Every 90 days I have to inform immigration about my place of residence, but luckily this can be done my mail. In about 2 months I will try to figure out what the next steps will be to keep my ED visa, but first it's time to go eat some Japanese food at the restaurant on the ground floor. Now I just hope I don't forget to send the papers on time, otherwise it will take me another day to get the paperwork sorted out.