Tom Anderson from Florida State University in Tallahassee, Florida, USA took the initiative to organise for January 2010 a symposium about "Art Education for Social Justice".
The fifteenth anniversary of Kids' Guernica held at Florida State University celebrated over 200 peace murals by children from more than 40 countries. The goal is to build a bridge of peace and understanding, ultimately to save the world from further devastating warefare. Associate of Science Degree in Child Development and an Associate in Science Degree in Early Childhood Education for Transfer.
Rio Hondo College, serving the communities of El Monte, Pico Rivera, Santa Fe Springs, South El Monte, and Whittier for over 50 years.
April 21, 2010 by Richard Kessler This article, The Hijacking of Arts Education, was forwarded to me by my friend Andy Wolf, who just wrote this terrific and important piece for the NY Daily News urging New York State to forgo applying to Race to the Top. The first piece, the hijacking piece, which strikes me as a sort of way out there, Joe McCarthy world view where art education is being infiltrated by communists, is just the sort of thing that could end up in the hands of a right wing opposed to funding for the arts, including the NEA, NPR, PBS, CPB, etc.
At the Grantmakers in the Arts preconference last fall in Brooklyn, among the day-long sessions was a track for arts education and a track for arts and social justice.
Okay, just in case you think I don't get the issue of arts and social justice, I think I have a decent handle on it. But hey folks, kids in urban centers being denied the rights by law and as human beings to a well rounded education that includes the arts is clearly a social justice issue, particularly when you consider how this all breaks along socio-economic and racial lines. So, perhaps, when people are looking to connect the arts more to social justice, they might just look in their very own backyard so to speak, arts education, and ask what they can do to help. I can't believe a guy who runs a center in NYC for arts education would extract the paragraph out of a very long and complex article.
I stand by the McCarthy-like comment, as I stand by my friend Maxine Greene, whose work has been distorted through what is in effect an ad hominem attack by Marder Kamhi.
Jennifer Hayhurst on Another Favorite Education Video: Meet Nel NoddingsThank you for posting this video.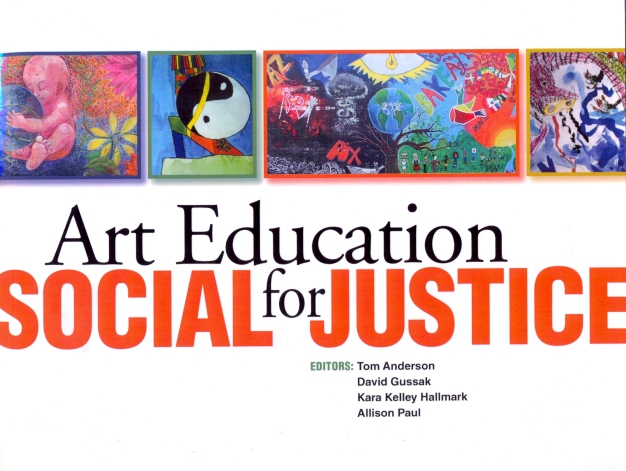 For those who have followed Dewey21C, hopefully you've noticed that I have been silent since the end of July.
You have to admit, at the very least, how fascinating it is to witness a sort of accountability movement in higher education, one which at time calls to question fundamental value, while at the very same time, most of K-12 policy continues to triangulate on moving students to college. For me, at my new position, there is one particular question from K-12 that I find to be the perfect lens to peer through: what should a graduate know and be able to do.
We invite you to join our online forum and provide feedback regarding the content and ideas in the upcoming book as well as exchange current information concerning community projects, schools, art organizations, and research that strives to address social justice through the arts.
Artists, educators, and community activists and organizers gathered from around the world to share their stories of mural making as peace building.
UNI students have the opportunity to student teach in Iowa at one of our regional centers, throughout the United States or overseas. What this did remind me of, was an issue I have wanted to address since last fall, being the very odd disconnect between those interested in arts and social justice, and the field of arts education.
People are interested in this because arts have always had a role in this area, giving voice to issues, serving as a means of binding together a community, etc. A month off from work followed that last post, and as we're blowing through September, I have started a new chapter in my career as Dean of the Mannes College The New School for Music. It was a month that I viewed as time to leave behind the past seven years at The Center for Arts Education, while clearing my mind for the very new challenge of leading a music conservatory that is part of a fairly unorthodox university (The New School). I thought it would be a good call to start with something that had that sort of cold water in the face feel as soon as arrived at The New School.
In almost every respect higher education is being challenged, whether it's on the basis of cost, design, relevancy, etc.
It is through that particular frame that I believe assessment and improvement is possible at my new job.
The original murals between students in Florida and Japan fifteen years ago were created to honor the 50th anniversary of the bombing of Hiroshima.
And, for many, making deeper connections to social issues and the arts field appears to be a very direct way to connect arts, an often challenged field when it comes to community relevance, directly to grass roots issues and those working on the ground. And, they need experiences making objects and images-not being little social activists as prescribed by the distorted views of social justice art educators. Kamhi's attack on Maxine Greene for the purposes of trying to expose a radical agenda within art education is quite the red herring. It didn't hurt that one of the founders of The New School, and father of its initial educational design was none other than John Dewey.
For arts educators, we were being asked what we were doing to increase the high school graduation rates, with the presumption that graduates would move along to college at increasing rates, in addition to simply ensuring a higher high school graduation rate and all that it implies. The Florida State University Museum of Fine Arts will host an exhibition of the murals through January 31st.
And some of these so-called social justice art educators wouldn't stand up for injustice if it was right in front of them.
Slowly it became about college and career readiness, which is the key frame for the Common Core Standards. Certainly biology and physics and agriculture and chemistry give us wonderful practical tools, but it is the arts that provide the holistic quality of understanding necessary for social wholeness and cultural health, through the arts that we develop the sensibility, the unifying sense, the direction, in short the ability to use our tools. Through the Kid's Guernica Peace Mural Project and initiatives like it, we want nothing less than to save the world through intercultural tolerance and understanding. This comment is most uncivil, reeks of intolerance, bullying, and a lack of understanding of what's going on in the field of visual art education. I don't think liberation is a viable and realistic aim for art education particularly K-5 education and I think more debates on the role(s) and purposes for art(s) education needs to occur.