"With almost 1700 species of birds, over 16,000 plants, and almost 400 species of mammals, Ecuador is one of the most biodiverse countries in the world."

-- Mark Pretti

In September 2011 we rejoined nature tour leader Mark Pretti on a birds and natural history tour of southern Ecuador. This trip was the follow-on to the tour of northern Ecuador we had done in September 2010. We had also been to Ecuador back in 1998 - before US dollars replaced the

sucre

and ecotourism took off - visiting the eastern lowlands of Amazonias with Victor Emanuel and Peter English.

We arrived a day early in Quito, to guard against any travel delays, and thus had a full day to devote to sightseeing in the city. We enjoyed a city tour with a local guide, getting to see several fine churches as well as the lovely

Plaza de la Independencia

, from where we had a surprise sighting of the Ecuadorian

Presidente

, Rafael Correa.

We began the birding trip the next day in the dry interior of Loja Province, a relatively short flight from Quito, getting some great looks at the big volcanos of Antisana and Cotopaxi from the airplane. Our first stop was the Jocotoco Foundation's Tapichalaca Lodge in the south, home of the Jocotoco Antpitta (see photo above left) as well as other cloud forest species including the (habituated) Undulated Antpitta. Outside of Quito (9200 ft elevation), Tapichalaca was our highest destination at 8200 ft. From there we also visited lower elevations down past Valladolid, about 5200 ft, seeking lowland and Amazonian species, especially Río Marañon endemics.

From Tapichalaca we headed to the eastern slope of the Andes and Copalinga Lodge, a privately-owned, truly special lodge. Not only did we see marvelous birds there including Spangled Coquette and Wire-crested Thorntail hummingbirds, but also saw first-hand the lodge's own hydro-electric plant and heard how it was engineered and managed. They may be off the grid, but they live in style!

Some heavier than expected rains on our Copalinga nights caused some minor landslides and had us toy with the pleasant thought of being "stuck", but our driver Edgar wisely parked our vehicle on the other side of the slides, so we only had to walk through a bit of mud and water to get out. Leaving Copalinga we travelled to the western slope of the Andes and the Jocotoco Foundation's Buenaventura Reserve. Mark described Buenaventura as one of the "birdiest spots in the country", and we'd have to agree. At Buenaventura we saw not only the rare and endangered El Oro Parakeet, but many other species including the truly bizarre Long-wattled Umbrellabird, the skulky (but beautiful-voiced) Song Wren, and the beautiful Rose-faced Parrot.

Our final stop was in the tropical deciduous forest (TDF to Mark's legion of birders) of the Jocotoco Foundation's Jorupe Preserve. After well over a week in cloud forest, the warmth and dryness of Jorupe - much like our home area of southeast Arizona - was most welcome. On the grounds and trails of the lodge, we sought and found Tumbesian (regional) endemics including Pale-browed Tinamou, Gray-cheeked Parakeet, and Watkin's Antpitta.


Unlike last year, where a brief police action closed the airport and nearly interfered with our leaving the country, our return to Quito and then home was uneventful. We spent a final evening with the group enjoying a last Ecuadorian dinner at Mama Clorinda's Restaurant, not far from our hotel La Casa Sol in the Mariscal district, and Liza satisfied her need to purchase Ecuadorian single-origin chocolate at the airport early on our travel day.

A brief note on cuisine...the food was quite good nearly everywhere. A variety of lovely fruit juices were available at every meal, encompassing fruits we're familiar with (pineapple, watermelon, melon, berry) to those that are virtually unknown in the US -

tomate de arbol

(tree tomato) and a couple whose names I can't even recall! The "staple" condiment

ají

was at almost every meal - save for a couple of breakfasts at Jorupe where the staff seemed bemused that we would ask for it outside of lunch or dinner. It was similar to salsa, but relied on cilantro, garlic, and vinegar for flavor instead of just chile peppers for heat. Every lunch and dinner was three-course - a starter (lovely soups, ceviche, etc.), main plate (beef/chicken/fish/shrimp, rice, vegetables, plantains), and dessert, with lunch being the biggest meal of the day. Although we ate quite a lot, overall we didn't do ourselves too much harm - well except for maybe the amount of shrimp we ate, which likely trashed our cholesterol counts. We and the rest of our party also did our best to support the local Pilsener brewery, and also enjoyed some nice Chilean wines here and there.



There are seven pages linked below - this home page, five more of photographs, and one containing videos, mostly of hummingbirds.



See also the full itinerary [pdf] from Mark Pretti.
Enjoy!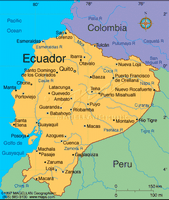 Country map - click to enlarge