The P-35 digital piano features Yamaha's Graded Hammer Standard (GHS) action which provides authentic piano touch that's suitable for the beginner pianist.
Turning Safe Search OFF may display content intended for mature audiences.You must be at least 18 years old to continue. Please enter at least one email addressYou are trying to send out more invites than you have remaining. Yamaha's AWM sampling technology reproduces piano tone one can only expect from a company that's been making acoustic pianos for over a century. With simple one-button operation, the P-35 has you a single press away from its best piano Voice setting.
MIDI Out ports get you connected to older keyboards that might have the sound you're looking for, but lack that weighted piano touch. Use an optional MIDI interface to connect to a computer or iPad for a variety of music Apps.Advanced Wave Memory Piano VoiceThe P-35 uses AWM (Advanced Wave Memory) sampling technology. The result is a spacious, deep and rich Piano Voice that changes in both volume and tone depending on how you play.Simple One-Button OperationThe Grand Piano button sets the P-35 to the Grand Piano Voice. Holding the button and "playing" the key beneath the Voice name selects that Voice.Graded Hammer Standard (GHS) Weighted Piano ActionResponsive and comfortable to play for the beginner pianist. GHS keys are heavier in the low end and lighter in the high end, just like an acoustic piano.Dual and Duo ModeWith Dual mode you can easily layer two Voices by holding the "Grand Piano" button and playing the keys under the Voice names. I was looking for a new digital piano that sounds great but won't put a huge hole in my wallet and light weight.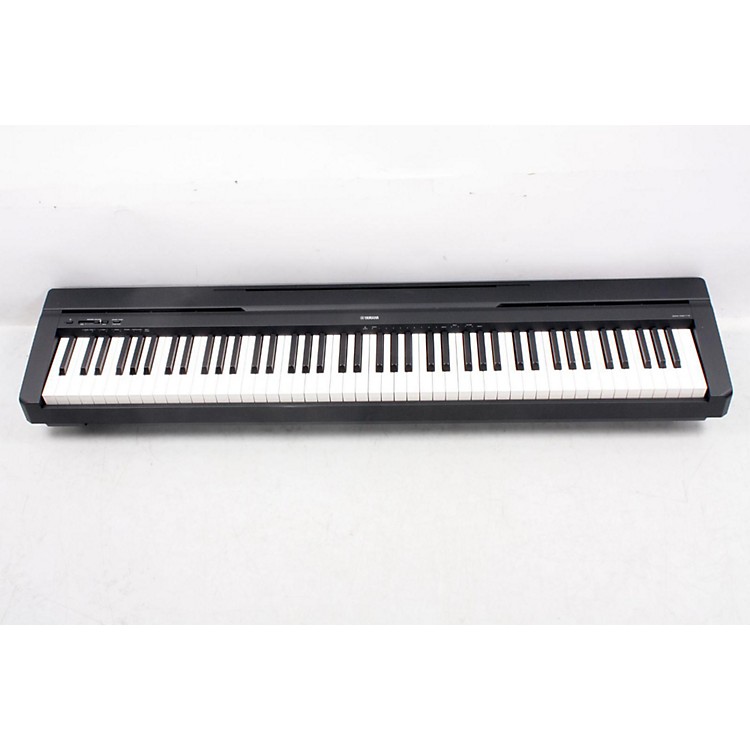 I was looking at the Casio CDP120 and the Yamaha P95 but then I saw that yamaha was releasing a new but less expensive digital piano.
Man, that grand piano sound is great and the typical DX & rhodes sounds are yamaha's best and the weighted keys feel fantastic and only weights 25 LBS!
I don't need hundreds of sounds that I'll never use and besides my other piano does all of that. The acoustic piano sounds are decent but the semi-weighted keys make piano playing a delicate chore. I've been looking for a full-size hammer-weighted keyboard with MIDI to connect to the Nord and use its voices.
The action is very good and I found myself using the P-35's piano voice instead of the Nord's; it's fine when amplified and can cut through the sound congestion of a rock band. It doesn't have the brightness or string resonance of a better digital piano, but good enough.
Some nits: the weighted keys are easier to strike toward the front edge and get noticeably tougher toward the rear of the key. Real pianos don't do this (at least mine doesn't) and I didn't notice this on the P-35 until playing it back home. My guess is that this is common in keyboards this size (depth of the action) and price point. I see that the P-35 is marketed mainly as a beginner's piano; it's probably just fine for that unless Johnny needs more buttons and doodads to hold his interest.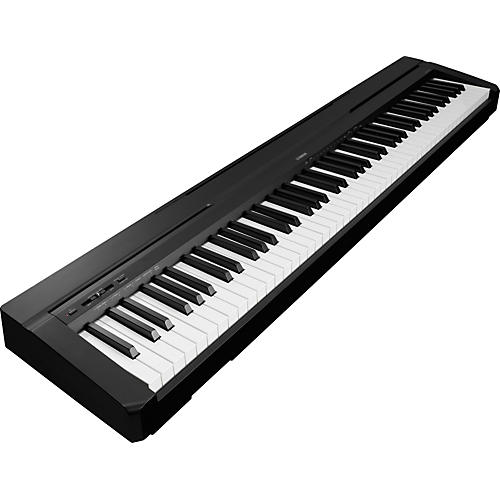 I was considering one of the cheaper 88-key units available, but decided to spend a little more & get this baby.
I give this device 4 stars not because it excels above other pianos, but because of its quality-to-price ratio. I own a more advanced Yamaha keyboard already, so I knew what I was getting - excellent realistic sound, and mostly-realistic feeling keys. You might consider getting something freestanding and put it up behind the piano, or get a 2-tier stand and rig it up with some kind of music stand. Get yourself a good set of over-the-ear headphones for practicing at night, and I would also recommend some decent external speakers.
Look at the M-Audio line of powered desktop speakers, they sound great, aren't ridiculously expensive, and would be a nice addition to this keyboard. Second con is that the headphones jack is located inconveniently on the back of the keyboard & is difficult to reach.
I thought about trying a headphone cord extension placed conveniently, but not sure if that would work with the electronics.