09.04.2016
UPDATE: Click here to see how I did in the 2nd weight loss challenge and how I lost 75 pounds. I still have 20-25 more pounds to go (30 if I'm feeling ambitious) to get back to feeling really good about myself again and true pre-pregnancy size. This was me in September 2012, a few months after having the baby and still wearing maternity pants (ugh!!).
Not that I think I look so fabulous or something, but I am proud for finally starting to lose, and proud that I am now healthier and can cross my legs again and sit indian style comfortably. Now for the exercise part which I told you in my January post that I despised…I actually have not worked out much per se, but I have done things sporadically like Zumba and walking. And while I do love me a good casserole and have some awesome recipes, I haven't made one in 2 months. PS-I know I should have worn the same outfit for my after pic as my before pic, but I totally did not think to do that at the time. UPDATE: Click here to see how I did in the 2nd weight loss challenge and how I lost 75 pounds.
Normally I would never weigh myself the day after returning from a barbeque competition because I would be puffy with barbeque and beer. Sure I had a few bites of my husband's barbeque (what kind of wife would I be if I didn't at least try it!) but I am seriously proud of my restraint all the way around. With 15 days left in my journey I am confident that I can shed the remaining weight (3.7 pounds, if we're counting) to reach my goal of dropping 10 pounds in 30 days. Make fried rice at home with a variety of veggies, fresh pineapple and homemade teriyaki sauce. ShapeFit is a health and fitness company dedicated to providing the best exercise, nutrition and wellness information and resources to help our visitors get in shape, stay fit and live a healthier and happier life! December 22, 2013 By Becky 14 Comments As you all know – especially if you read my post last week, I am NOT one for diets. Well, as luck would have it, Lauren reached out to me last week about joining her 2014 New Year 24-Day Advocare Challenge. So, it is official, I'm joining Lauren's 24 Day Challenge beginning January 6th!
And, because I know some of you are definitely interested in Advocare, I did a little Q&A with Lauren about herself, Advocare and the 24-Day Challenge! You can order your challenge bundle here. I will then send you some additional information I give to group members and of course send you an invite to the Facebook group to join us. Thanks so much to you all for reading this, and thanks so much for having me over here Becky!  Can't wait to get this challenge started with you! I'm still using a few of the advocare products I started using when I did the 24 day challenge in October. Enter your email address to subscribe to Olives 'n' Wine and receive notifications of new posts by email!
On that note, bloggers, you have a chance to participate in the new Shaklee 180™ blogger program to reach your inch, weight and health goals! Shaklee is looking for 90 new bloggers to take the Shaklee 180™ Healthy Blogger challenge for 6 months.
An opportunity to be chosen for a Shaklee 180™ video promotion and a trip to Shaklee HQ in California.
For selected bloggers who participate monthly incentives, including paid Facebook advertising for your blog, workout gear, shoes, equipment, and more. So if you're a blogger with a few — or a lot — of extra pounds to lose,  learn about Shaklee 180, then go ahead and fill out the Shaklee 180™ Healthy Blogger application.
Six months ago, I started my weight loss journey with Cinchspiration with high hopes, but not really sure if I could believe the hype. I'm hoping to be chosen as next year's Cinch Blogger Spokesperson, ready to step in and motivate a new group of women to push themselves past the challenges and their self-imposed limitations, so wish me luck! I've learned that I can make dishes at home that not only taste better than the restaurant version, but that are lower in calories, sugar and fat, too.
So though I still have nearly 40 pounds more to lose before I reach my goal weight and a healthier BMI, I still feel like a winner.
I am in my absolute glee this week, not because the holidays are coming (though I am looking forward to some family time), but because I've reached 2 major milestones in my Shaklee 180 weight loss journey! The scale has been inching down a lot more slowly in the last month that it had been when I first started Shaklee 180, and I think that's probably to be expected.
I'm also watching all the other ladies who are participating in this Shaklee 180 challenge blossom into confident, self-assured women, and it is amazing to witness! But when I calculate how much I have lost since the 2nd baby was born, it's a whopping 56 pounds!!!
BUT, I finally did commit to a baby boot camp class and have been to 5 classes now, and go 2 or 3 times a week.
I did sign up to do the challenge for the next 8 weeks too and we are into the 2nd week now. Try little things like when you make oatmeal use water, not milk and that will save you 120 calories. I'm not an expert or anything but I have done this a few times and know what works for me at least. As I embark on week three of my personal weight-loss journey I am feeling on top of the world because I can really see the changes now — on the scale and off of it!
Yes, right after the temptations at the barbeque competition (more on that later), I tempted fate and jumped on the scale. For the next 15 days (and beyond), I am going to challenge myself with DailyBurn's Inferno workout series. ShapeFit has thousands of pages of fitness content with fun and interactive tools to help our visitors lose body fat, build lean muscle and increase their energy levels. To be quite honest, I have been wanting to try it out for quite some time but I was scared and had many questions.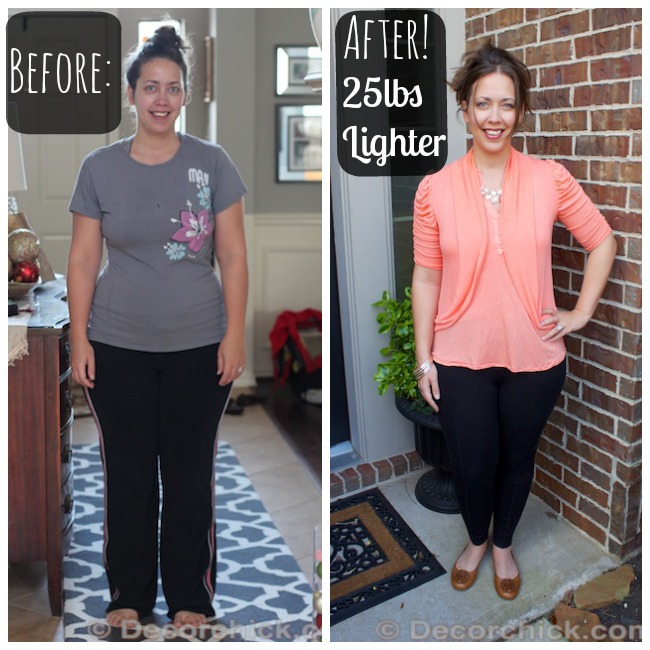 At first I was skeptical but I did my research as well as asked Lauren approximately 5 million questions (thanks for answering all of them, Lauren!!).
I did not do the cleanse portion for medical reasons so I essentially did the last 14 days twice while following the same food guidelines & I loved it!!! I'm passionate about keeping a balanced life through eating well, tasting great wine, staying active, and traveling to new places. Like a lot of people, I was kind of bad about my eating over the holidays and I was lazy about exercising, and it took a while for me to get back on track. As my weight has decreased, I've also had to decrease my calorie intake so I can continue to lose, and it took some tweaking for me to get it right. Like the first program, you'll receive 6 months worth of products to help you take back your health. Six months later, I feel like a new person inside and out, 45 pounds lighter, but more importantly, with a much stronger spirit and self-confidence through the roof! Still though, I have clothes in my closet in size 12 and 10 that I've bought recently as motivation to keep going.
As a result, I received a 6-month supply of Cinch products along with online support and incentives as I documented my journey. I threw my name in the hat for a chance to be one of 50 bloggers who'd get to use the Shaklee 180 program for 6 months. I've lost a total of 44 pounds on the Shaklee 180 program in a little less than 6 months! The Shaklee 180 smoothees and meal bars are convenient, but the thing about the plan that helped me more than anything else was having to choose my own, healthy, dinner. And I have Shaklee, team leader Sommer Poquette and the 49 other ladies who began this journey, and the 30+ who have completed it. I went from a woman who almost never allowed anyone to take full body photos (the one shown above is one of only a handful) to one who proudly, excitedly posts outfit of the day photos each week. As a result, I have received a 6-month supply of Shaklee 180 products along with online support and incentives as I document my journey.
I started this journey just hoping that, for once, I'd be able to stick with a weight loss program. As a result, I have received a 6-month supply of Cinch products along with online support and incentives as I document my journey. The shock to my system when I went from eating crap all the time to eating much healthier foods and from being basically sedentary to exercising for 45-90 minutes 4-5 days a week was bound to make me some lose some weight in a hurry at first.
Life has gotten crazy busy all of a sudden, but I wanted to share how I'm doing on my Shaklee 180 journey to this point.
They haven't moved nearly as much as I'd like, but progress is progress, right? The FitBit is tiny and discreet, and it will track my steps, how many flights of stairs I climb (which will be interesting to see, since I live in a third-floor walkup), how many calories I burn throughout the day, and even how well I sleep. When you have to look at yourself every day, the changes can seem really small and disappointing. They sincerely motivate me to continue even on days when I just don't feel like it, or when I feel like eating lots of pizza or cake. In spite of the fact that I have failed to exercise as much as I should, it looks like sticking strictly within my daily calorie limits is paying off, because I've reached a milestone. So I'm going to pat myself on the back for a bit, then get back on the horse, better and stronger than before.
As a result, I will receive a 6-month supply of Shaklee 180 products along with online support and incentives as I document my journey. The before picture was taken just 5 days into the program, and the after was taken when the 8 weeks was up. If you are carrying baby weight still around or just extra weight in general, there is hope. And obviously I am feeling better about myself since I put on real clothes and makeup that day. And just remember that exercise alone won't give you the results you are looking for.
I am in the same boat as you, gaining way more weight during baby number two, and feeling like a blob.
I'm hoping this intense series will help get me to my goal of toning my legs, arms and stomach.
The products are important, yes, but it is more about the healthy food you are putting into your body. I have fallen off the clean eating but am hoping to have less cookies after Christmas is over. Now, more than 7 months later, I am 49 pounds lighter, 24 inches smaller, and I'm a winner! I am still in awe, because all the ladies who remained in the program did such an amazing job, and we all supported each other throughout the journey.
I never thought I was really ready to lose the weight I'd be wanting to lose for years,  but I was. Results and experiences from the Shaklee 180 Program are unique for each person, so results may vary. I thought I just didn't have the energy to eat healthier foods or exercise regularly. If you want to know how I did it, feel free to scroll through all my Cinchspiration posts to see the transformation. Six months ago, I skipped breakfast nearly every day, and when I did eat, I typically ate crap loaded with sugar, simple carbs, fat and failure. After doing that for the first few months and waiting for my body to get used to the reduced calorie intake, I learned which foods to choose, so that even on days when I'm away from home and not able to grab a Cinch meal, I can still choose healthier options.
I especially want to thank women like Maribel, Brooke, Maggie, Mandee and a couple of others who were particularly supportive and always trying to motivate all of us to do our best.
In a few short months, I have transformed from a woman who was faking confidence to one who actually is confident. My 30th birthday is in four days (gasp!), and my health is the best birthday present I could ever receive. But my encounter with the nurses reminded me of how far I've come and that I should be proud of that. Now that school is back in session and as a family we have so much to do, there are a lot of nights when we eat takeout. I wrote a post at the beginning of January telling y'all I was starting an 8-week weight loss challenge, like an accountability group type of thing. Well I thought I was going to there at the end but the other girl came in with a 5 pound loss right there in the last week (which really surprised me btw), so she won.
I really am trying to step it up in that department so I don't look so frumpy each day.
I stuck strictly to my 1200 caloric intake (and my milk supply has been great btw), and only had 1 cheat day in the 8 week period, and at The Melting Pot…yum! I just don't buy the bad stuff or the sweets anymore so my whole family is suffering with me.
Normally I'd put a pat of butter in my oatmeal, but I stopped doing that completely too. I have to say though that grey shirt is loose on me now and definitely not fitted like it is in the before pic. It's really important to start a healthy eating lifestyle so they work well together. We had guidelines to follow, such as eating the right amount of veggies and fruit per day, no food after 9pm, no junk food, exercise, etc.
Throughout the weekend, I snacked on almonds, apples and peanut butter and lean deli meats wrapped in lettuce.
I am, however, all for lifestyle changes, changes that make you feel better, look better and let you perform at your highest level.
And while I'm going to strive to meet all of the goals and dietary suggestions, my birthday does fall on January 26th so I am planning on at least one glass of wine ;) It is all about balance, right?
All I really want to do now is tone everything up and convert any remaining fat to muscle, particularly around my belly, back and arms. And even better, if I had to eat like this for the rest of my life, I'd be perfectly OK with that.
People following the weight loss portion of the Shaklee 180 program can expect to lose 1-2 pounds a week. My goal for the 6-month period was 40 pounds, and I still have more than a week left before it's officially over, so I'm pretty darn proud of myself! I feel like a completely different person on the outside, but more importantly, on the inside, too. I wasn't too excited at first (because it takes me a while to really want to lose), but after the first week I was. I will say though that the first week or two of the challenge, I was grumpy and bit everyone's head off. I knew that if I ate stuff like that for my dinners, that the weight wouldn't come off.
I've come to regard sweets like cupcakes, cookies and ice cream as very occasional treats rather than staples of my diet.
People following the weight loss portion of Shaklee 180 can expect to lose 1-2 pounds a week. Because I've still got some problem areas to work on and quite a bit more weight to lose. Oh and those coral tops are from Marshall's, and the black leggings from Ann Taylor Loft. You should check it out bc as a mom it's easy to get one of her 10 minute workouts in. So it makes you want to get all of your points possible for the day so you have a chance at winning the point portion of the contest.
I took walks with the kids, followed Anja's tips for working out without access to internet — and utilized our surroundings to help get my exercise.
But cardio is FUN for me (Zumba, anyone?) and strength training, for the most part, is not. In fact, all of the ladies who participated the first time are eligible to apply again, and I'm seriously considering doing just that. I am always glad after class that I did it and do like it when I'm sore the next day.
I would order corn tortillas instead of flour and only eat one tortilla, then the rest meat.
I haven't weighed less than 115 in at least two years so this is a pretty exciting milestone for me in this journey. I LOVED having the support of so many other bloggers who shared a common goal, and I'd love to do it again!
You are an inspiration.Thank you for sharing your experience and being honest with all you felt and what works for you. I only made spaghetti maybe twice during those 2 months for the family, and I just left the pasta out for me. I set aside a portion of the meat sauce and just ate that (and likely with a tostada shell).