14.12.2015
A little over a month ago, I told you about some pretty serious finger pain I was experiencing. I decided before seeking professional help from a doctor, I wanted to reduce inflammation in my body and see if that helped ease the pain.
The first two weeks on the anti-inflammation diet, I was very strict, and the results were amazing. As you can see, the meal plan incorporates a lot of vegetables, fruits, and whole grains, with more fish than I'd normally eat. Both my mom and my sister in law have auto immune disorders and I have really been wanting them to try this diet.
I eat large salads for lunch often (probably 5 days a week in the spring and summer–less in the winter) Dinner often includes a smaller salad. I have followed your blog for a while- I stumbled across it when I was eliminating foods from my diet while nursing my now almost 3 year-old, who had food intolerances.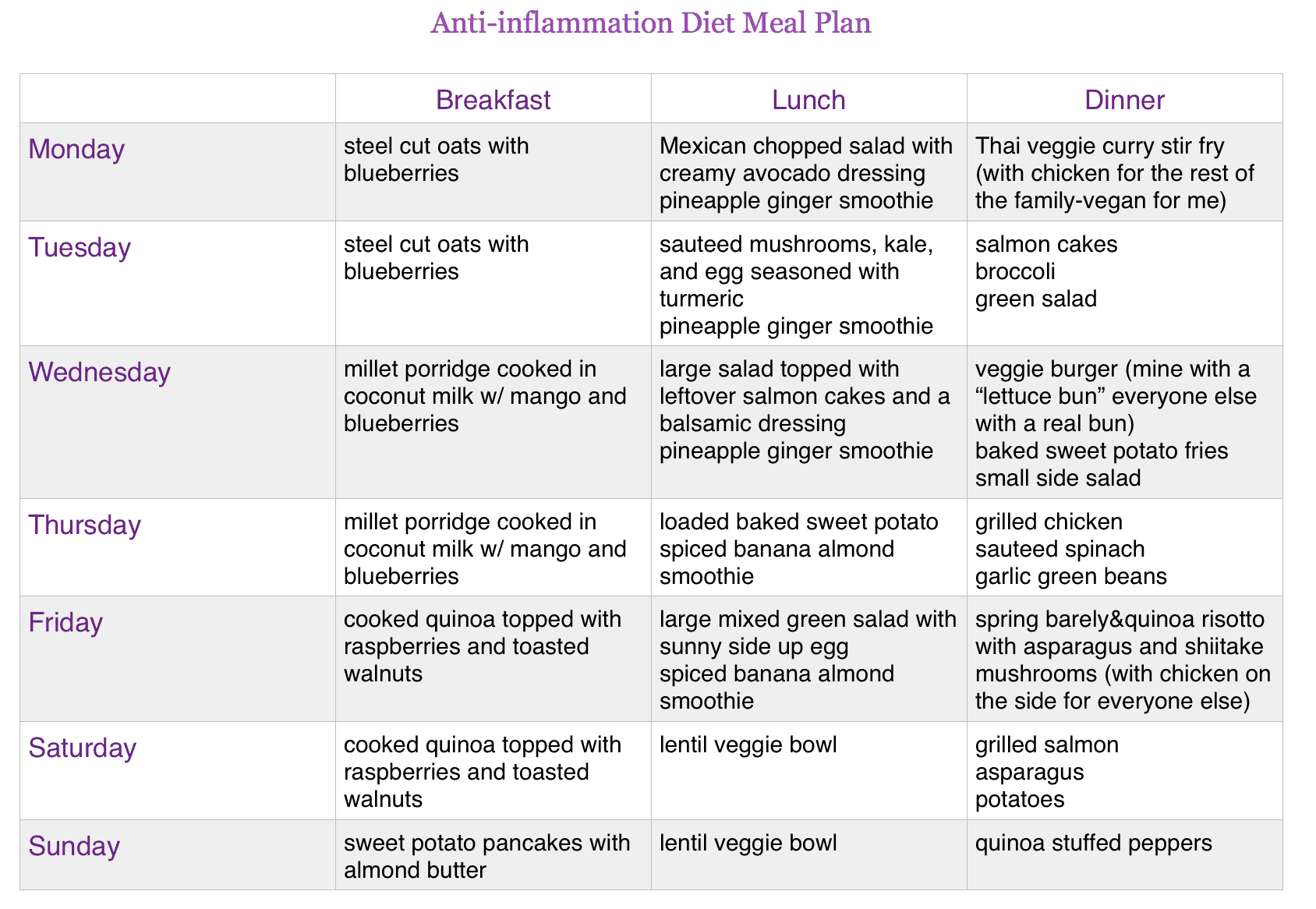 I seem to have kept the pain away by following a looser version of my original anti-inflammation diet.
I need to find out if certain foods (like wheat or sugar) can be eaten in moderation without the pain coming back.
I remembered reading about your anti-inflammatory diet a while back, but came back to look at it more closely today. When I start to feel pain coming back (I sometimes feel it in my wrists, too) I always look to my diet first and usually have been eating too much wheat or sugar.
I have Meniere's disease, and after a decade of very minimal problems, I am having lots of problems with vertigo. I feel like dinner time is so rushed and frantic as it is that the last thing I want to do is wash, dry, and cut up a bunch of lettuce and salad toppings and then make a homemade dressing. My neuro-otologist is great and has answered lots of questions and tried lots of medications for me, but the vertigo has not resolved, and in fact, has worsened to the point where I am considering a major ear surgery.
I just started the anti-inflammatory diet today, and was thrilled to find a sample meal plan on your blog.
When I'm really in a rush, I just use a bit of olive oil, vinegar, and a little lemon and salt and pepper right on top of my salad instead of a real dressing. I am hopeful that the diet will help my symptoms- living with daily vertigo is nearly impossible with 3 kids under 6, and the surgery only has about a 75% success rate, plus trying to recover from a surgery with 3 little kids sounds tough.
Sounds like you started to see results in about a week, so I will keep my fingers crossed that I might see results soon too.