31.03.2014
My workshop is a detached two-car garage that serves as my laboratory for all things related to Extreme How-To, from photo shoots and material storage to pre-fab work and project prep.
The rack is stationary and mounted to the wall of my shop to provide plenty of strength and stability to hold the heavy sheets.
If you are installing the rack on a block or concrete wall, then use the appropriate wall anchors or concrete screws to mount the rack. Sure, you'll find a variety of woodworking plans online, but most of these storage units are very large and often designed for a great deal of capacity. However, the sheets go in and out of the end of the rack, meaning that you will need clearance at one end or the other to insert or retrieve the sheets, bearing in mind that a full sheet is 8 feet long.
I had planned for years to build a storage rack to solve this problem and finally found the motivation to do so. My design provides enough storage for my materials, keeps the supplies against the wall and out of my way, and even has an upper shelf for further storage of long items like 2x4s and pipe clamps. The rack's cross-braces that are installed against the wall are fastened into the solid stud framing with 3-in.
I'm more of a jack-of-all-trades (master of none) DIY guy who usually has a half dozen various sheets floating around, so I did not need a monster rack to hold dozens of sheets. If you're a part-time carpenter or hobbyist woodworker, then maybe this rack will suit your needs as well.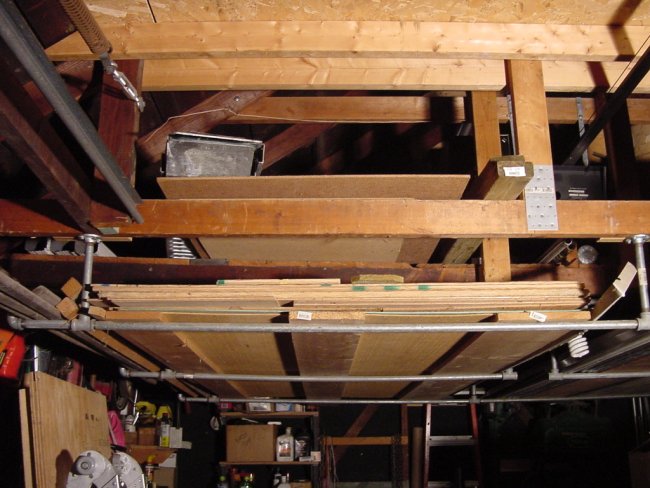 So, whenever I need to pull out a sheet that is larger than the 5 or 6 feet of clearance at the end of the rack, I can simply lift the overhead door to gain more room.
This seemed to me the most logical way to economize space, and you should plan accordingly when locating the rack in your shop.